How to buy agricultural machinery in the USA?
Recently, agricultural machinery from the United States has begun to gain popularity. In the vastness of the market, it is difficult to buy agricultural and special equipment of the highest quality, so more and more agricultural holdings decide to buy agricultural equipment from the United States.
Advantages of buying agricultural machinery from the USA
The best quality technology. New Holland, JCB, John Deere, Case IH, Claas, Gravely - all these brands are known in the world market, they are appreciated for their reliability and durability.
A large assortment. One of the main advantages is the availability of a huge selection of equipment. There are  alot of options in the western market, from a miniature John Deere X700 to a 13 liter John Deere 9530 tractor and a large automated S700 series combine.
Attractive price. The agricultural machinery market in the United States is rather oversaturated. Every year, more advanced modifications are created, and this entails a price reduction even for equipment that are two years old. And of course, even European entrepreneurs do not hesitate to buy special equipment from America.
How much does  agricultural machinery cost from the USA?
The cost of special equipment is a very important criteria, so one of the most cost-effective purchase options is buying this equipment from auctions in the United States. For example, the John Deere 9770 STS combine, this unit costs about $ 37,000 at the auction, and the John Deere 8520 - $ 45,200, it all depends on the year, manufacturer and model.
Purchase risks
Of course, the purchase and delivery of agricultural equipment from the United States has its own risks, but TRT controls all processes and minimizes risks and errors.
We have the best and newest equipment for loading and shipping your oversized cargo from the USA.
TRT International  has its own storage facilities. We can provide photo reports of your  equipment purchase at different stages of  loading and shipping. Therefore, the integrity of the cargo is intact.
Delivery of Agricultural Equipment from America
This topic is of interest to all future owners of a combine, tractor, truck crane or other equipment. Transportation of cargo by states to the port and loading on a barge. I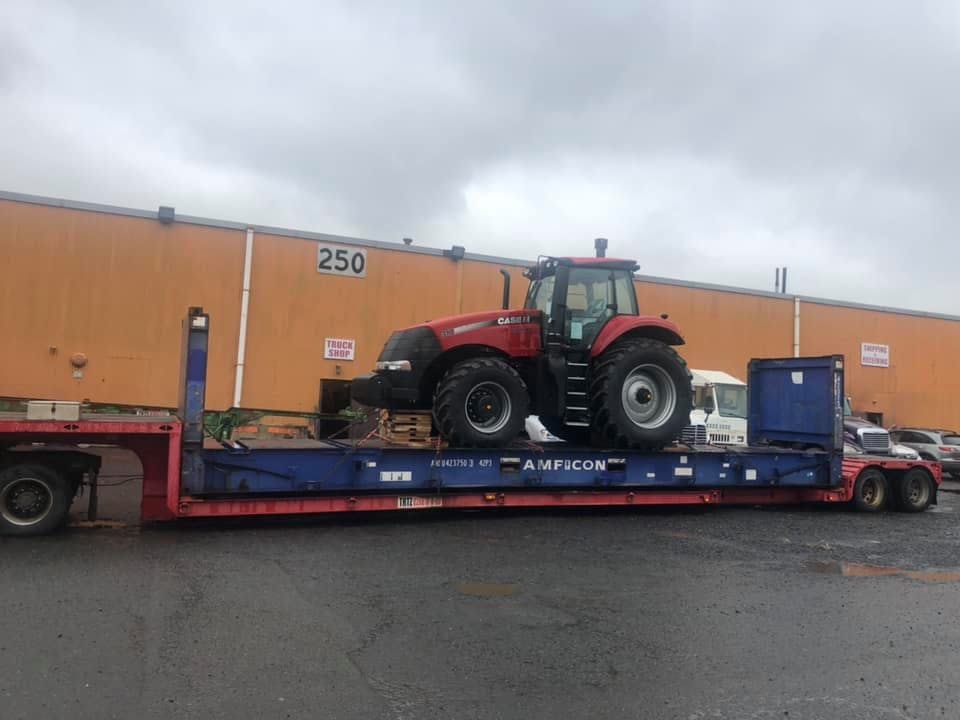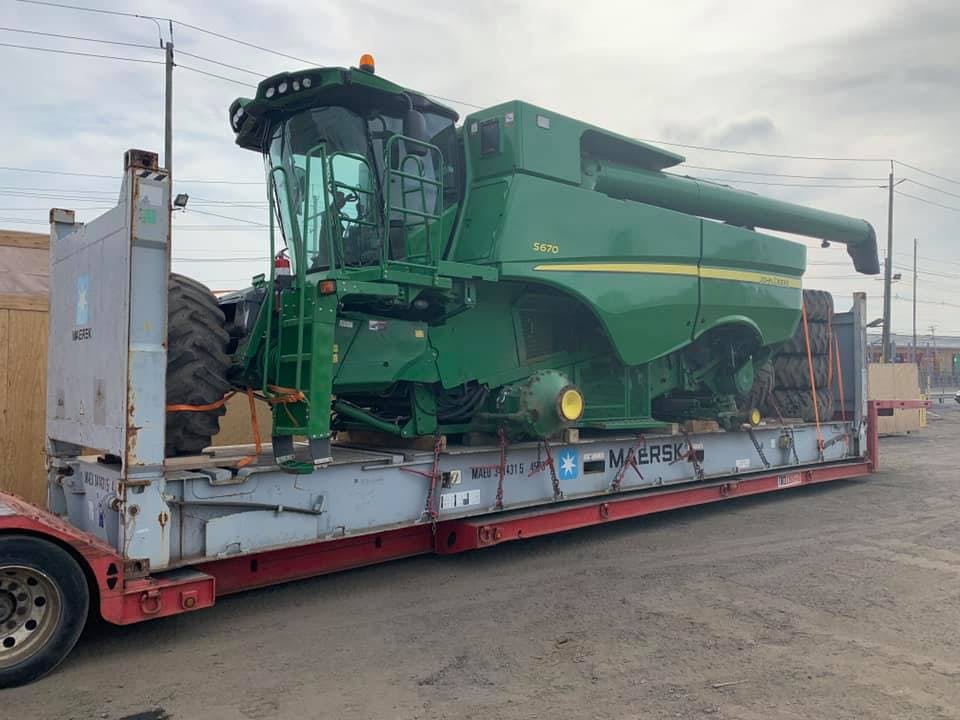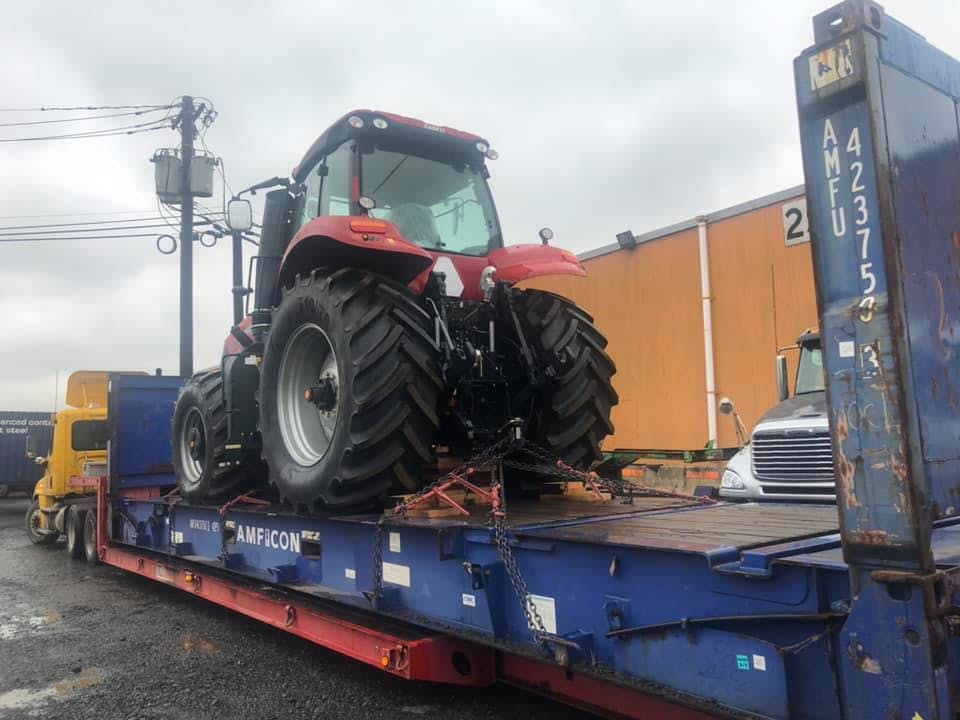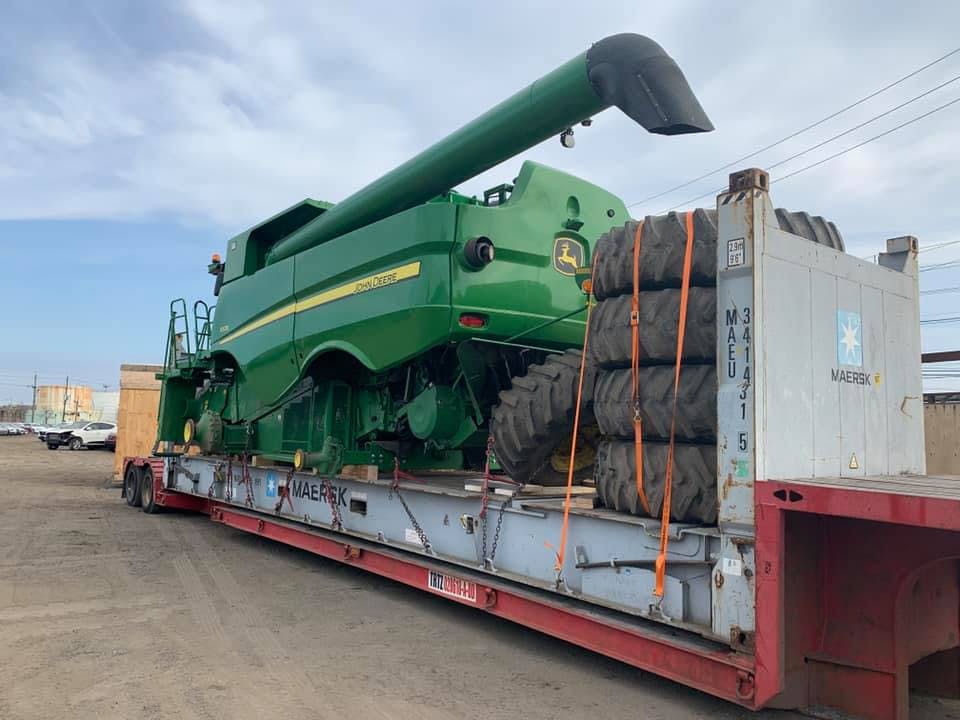 In the United States, agricultural machinery is delivered on certain trucks, then loaded onto 40-foot flatbeds with a special platform without side walls and a roof, which makes it possible to transport bulky goods. Delivery of special equipment from America to the port point in Europe takes about 40 days.
How much does the delivery of special equipment from the USA cost?
Also an important criteria is the cost of delivery. So how much does it cost to deliver agricultural machinery from the USA? The cost of services is calculated individually for each equipment. Your final cost of delivery of special equipment from the USA depends on:
 The state in which your equipment is located
 The weight and volume of the cargo
 The destination country
Our manager can contact you and ask you for additional information to make the calculation more accurate.
Why TRT International?
TRT International is your go-to company for timely, reliable, and easy shipping and transportation of your heavy equipment & machinery. Based out of Newark, NJ, we provide worldwide transportation and carrier services for heavy equipment, machinery, and construction vehicles of all sizes. Shipping bulldozers, cranes, tractors, excavators or other heavy industrial or farm equipment requires a specialized hauler. Let TRT International, a professional heavy transport hauler, handle your equipment shipping needs.
Request a quote today on our website: www.usatrt.com
Email our sales team: [email protected]
Or call our sales team: 973-344-7100 
Oct 19th 2021